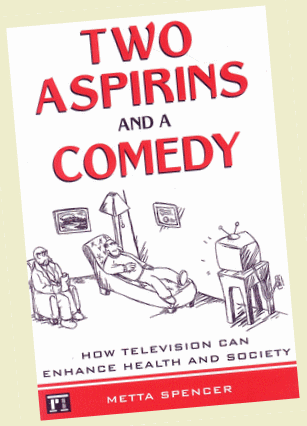 Two Aspirins and a Comedy
How Television Can Enhance Health and Society
By Metta Spencer
from Paradigm Publishers
Surprise! You can enhance your health, your mind, and your society -- with entertainment!
The dramatic television series is probably the most powerful under-recognized influence in the world. For better or worse, it affects your health. It informs or misinforms you about vital facts. It suggests how you should live your life. It shapes your world's social structure by its impact on such factors as birth rates, criminal justice systems, IQ, child-rearing habits, political alignments, and religious worldviews. It demoralizes you or inspires you to become active in solving the world's problems. We need to use it — and we need to improve it.
Though Two Aspirins and a Comedy criticizes contemporary TV, it also shows how to use it to enhance human flourishing, both individually and collectively. Spencer wants us to foster a culture of peace with gripping stories, especially in television series that demonstrate smart, ethical solutions to social issues. She proposes practical, attainable steps toward that goal.
Two Aspirins and a Comedy is published by Paradigm Publishers and is available for a 15% savings on their webshop.